A bit of history
Shropshire Organic Gardeners, SOGs, held its first meeting on 20th February 1990, attracting 35 people, including some members who are still with us. We still have the Minutes of the meeting beautifully typed up on a typewriter – something we're quite glad we don't have to use these days.
The second meeting on 7th March was a Seed and Seedling Exchange – something we continue to this day, both informally when we meet at a member garden in teh summer, and now as a regular part of our pre-Christmas meeting. A good chance to swap all sorts of garden paraphernalia too!
It's all there, snippets of our history, typed out, hand written notes, hand drawn location maps, and interestingly dipping and diving between various meeting hall venues in Shrewsbury.
1990 saw a first visit to Ryton Gardens, now known as Garden Organic of some 40 SOGs members. 3rd October 1990 the group were given a talk by one Sue Stickland of All Muck and Magic fame, and still a member of SOGs.
We even had a Radbrook Horticultural College in the county and there is much talk about horticultural apprenticeships and market gardening again.
Interestingly, a request for volunteers to help with FoE's campaign against the use of horticultural peat. 31 years have passed by and use of peat is still an issue, though let us hope that the tides are turning.
Recipes and ideas for talks abound, and the piece de resistance, a Christmas Quiz. The only problem is that there are no questions, only the answers!
It is so nice to see a good number of members who are still a part of SOGs and still believe so strongly in the benefits of organic gardening.
The Present Day
We are still a group of gardeners and smallholders, and still affiliated to Garden Organic (formerly HDRA), which is based at Ryton Gardens near Coventry. Many of us are individual members of Garden Organic and receive the excellent quarterly magazine, free advice and free entry to Ryton Gardens and RHS gardens. As a group member we benefit from a larger discount on our seed order than for individual members.
A twice yearly newsletter provides feedback on meetings, visits, seasonal recipes and tips.

Our winter meetings are held on the first Wednesday of the month at 7.30pm and for 2022/23 will be held at the Bradbury Room, Drapers Place, Shrewsbury (more detail on the Home page).
Summer meetings from May to October are usually at weekends and consist of visits to gardens of interest in Shropshire and surrounding counties, members' gardens, a coach outing to a garden further afield, practical workshops, demonstrations etc. We are regularly involved in putting on displays at Green Days, Food Days, other garden events to spread the word on organic growing and composting.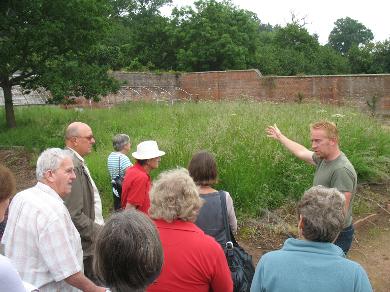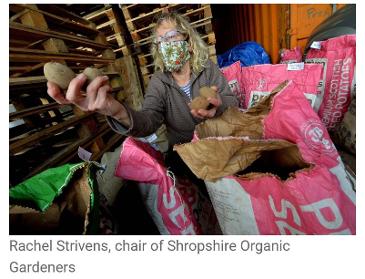 An event not to be missed is our famous Potato Day at Wattlesborough Village Hall, just on the edge of Shrewsbury. This takes place every February and is very popular! A wide variety of seed potatoes are available for both potato newbies and experienced tattie growers - and SOGs members get discounted prices.
Subscriptions
Subscription rates are £12 per person per year.
Visitors to meetings or member gardens £3 per meeting/visit.
Chairwoman
Rachel Strivens 01743 891607