Next Event:- Sunday 17th May 2015, 2pm.
Activities Day at Berrington Hall Crabapple Community , SY5 6HA

Recently joined members and potential new members especially welcome.
Tour the gardens and grounds which are particularly interesting.
Activities to participate in, flax spinning, wool spinning, making handles for tools.
Tea and cakes.
Chat and smiles with friendly people.
See the Chairman having a wobbly moment.
25th Birthday Celebrations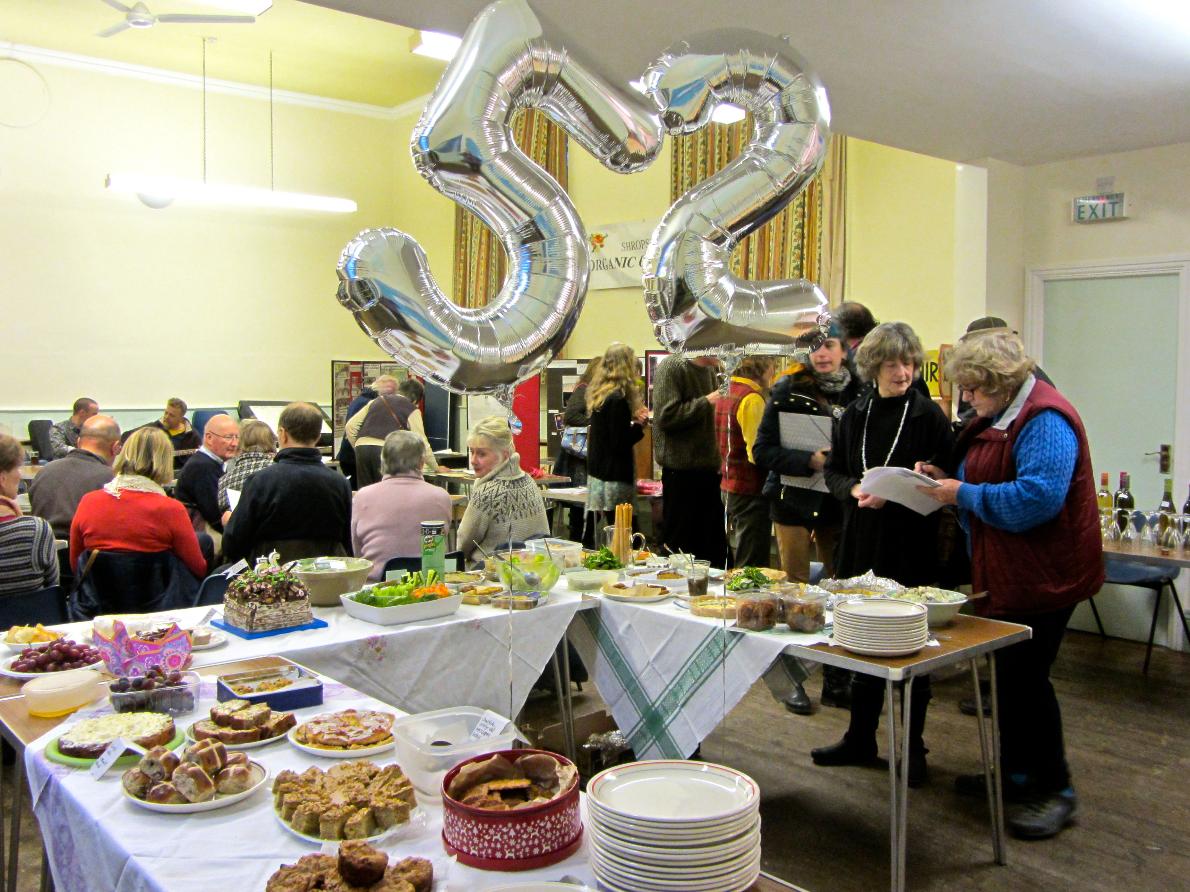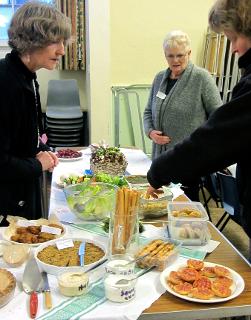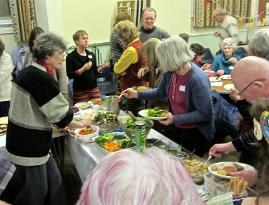 Lots of lovely food, most of it home grown or home made plus the lovely compost bin cake made by Maggie Anderson.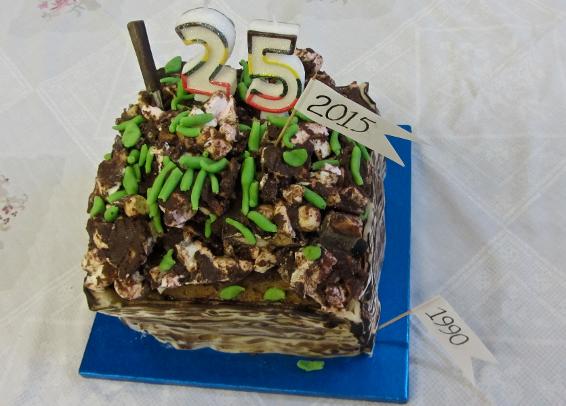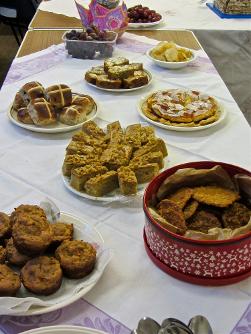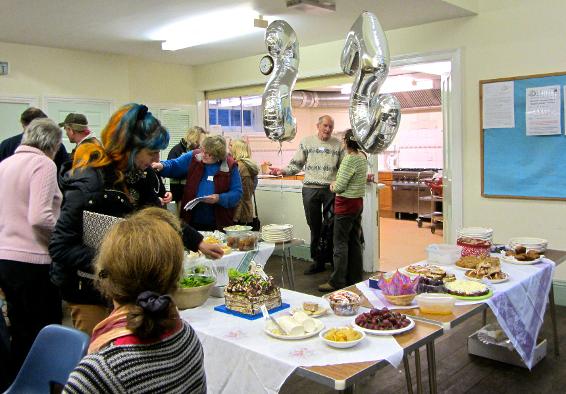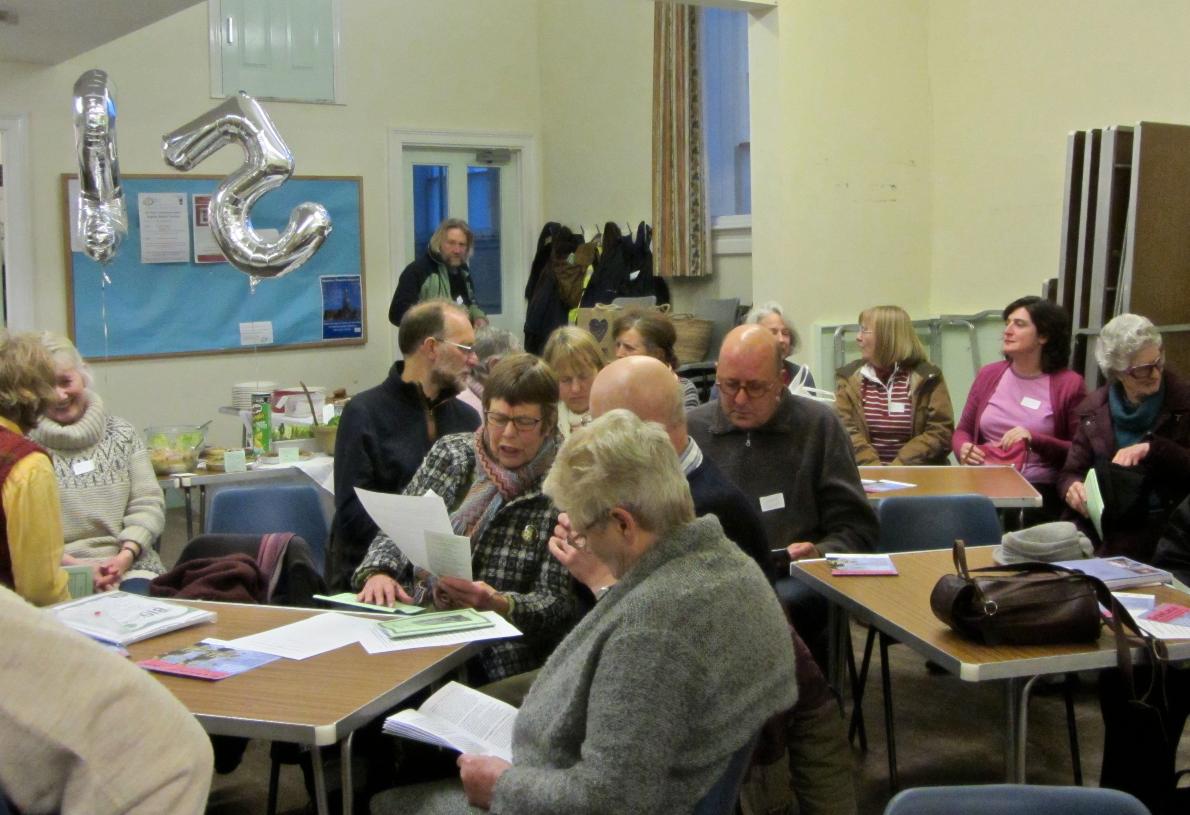 Potato Day 2015 in full swing. Lots of Colour. Check Potato Day page for more pictures.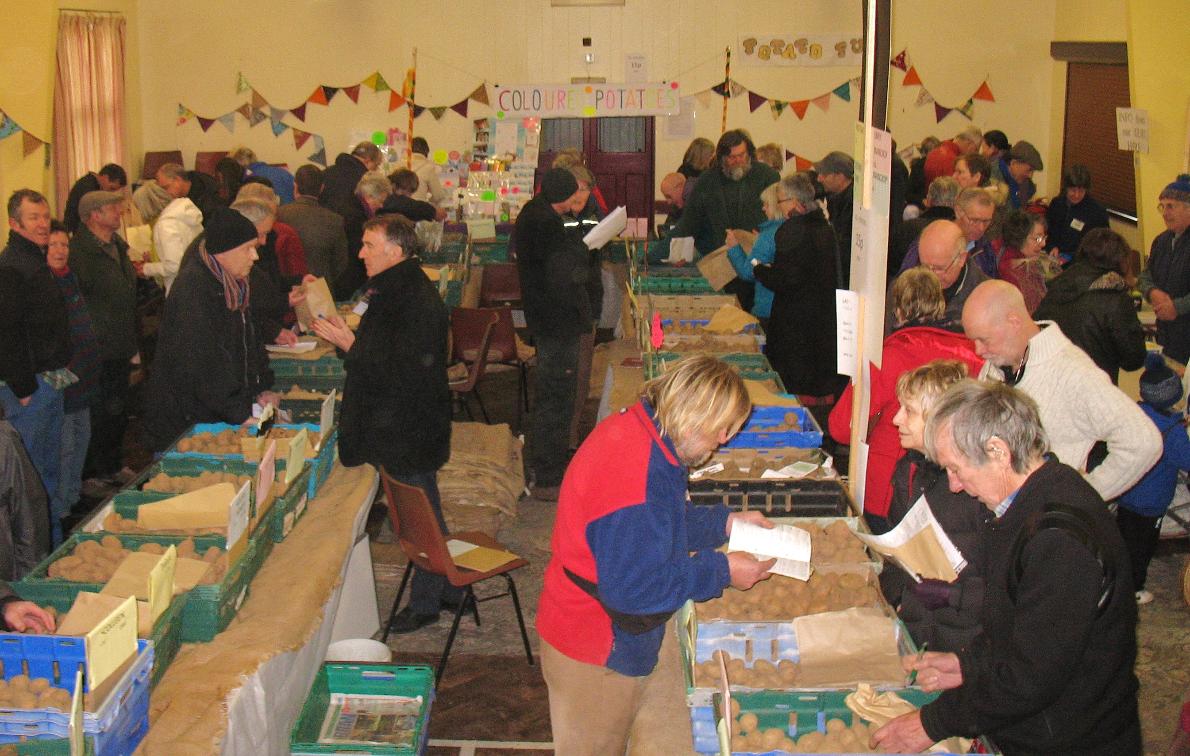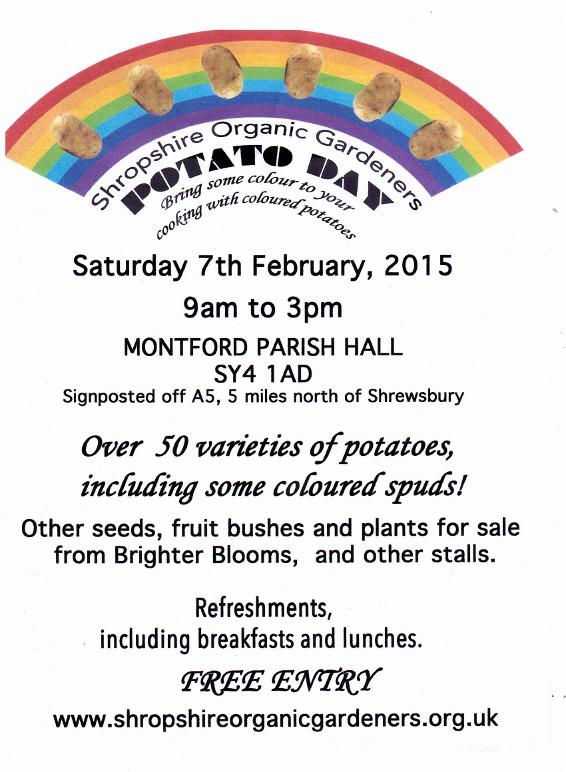 Buses from Oswestry to Shrewsbury stop on the A5 near to the venue.
!!!!!News flash!!!!! SOGS have been offered some CAROLUS seed potatoes.


They are virtually blight proof, have a good flavour,

they are white with red eyes which makes them


good

looking, they are a good cropper and have




good

drought resistance.
Apart from providing a lot of your favourite varieties every year we try to make Potato Day a bit different. For this year we decided that to brighten a winter day in February it would be good to add some colour.

SO:- we have sourced a few coloured varieties, including ones that keep their colour when cooked. The rest will be up to your imagination but you could create some "fun" meals with say red, white and blue mash for the kids with more subtle use for meals for you and your guests.--- so give them a go and be different !!!!
Click here to go to Potato Day page with an updated downloadable list
updated 2nd February.
Apley Walled Garden, June 2014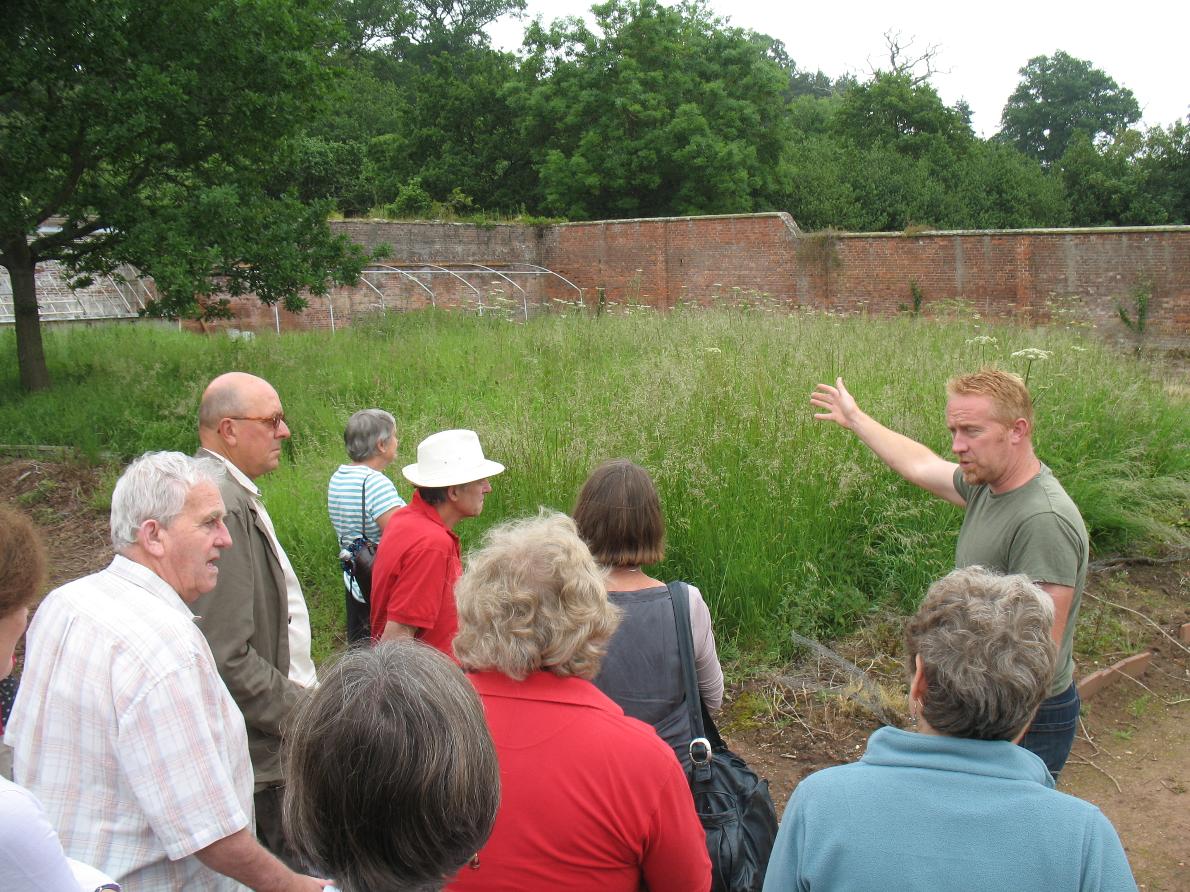 This is the enormous task facing this restoration project. June 2014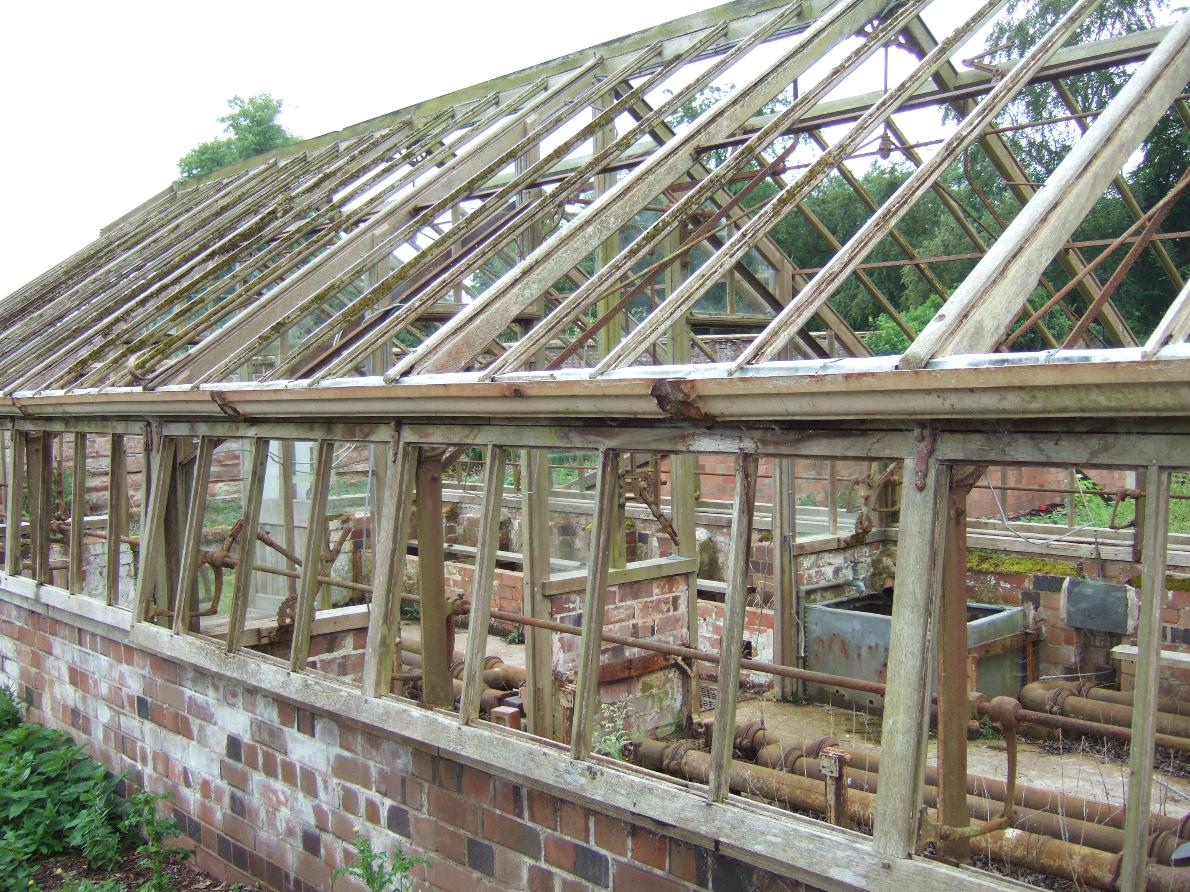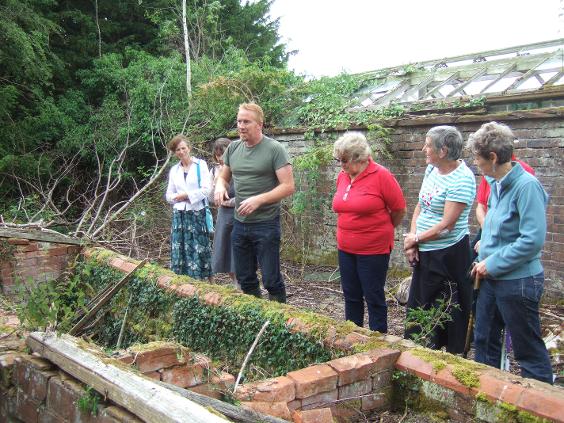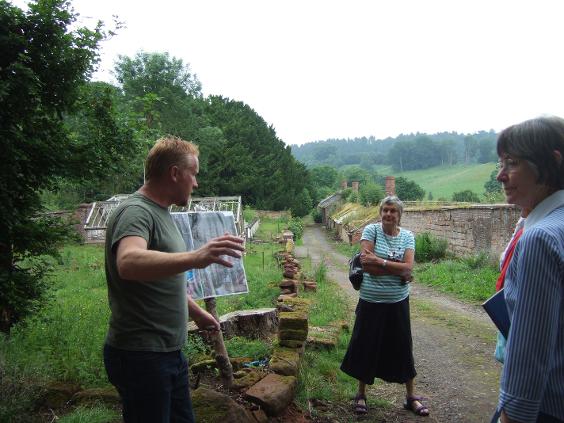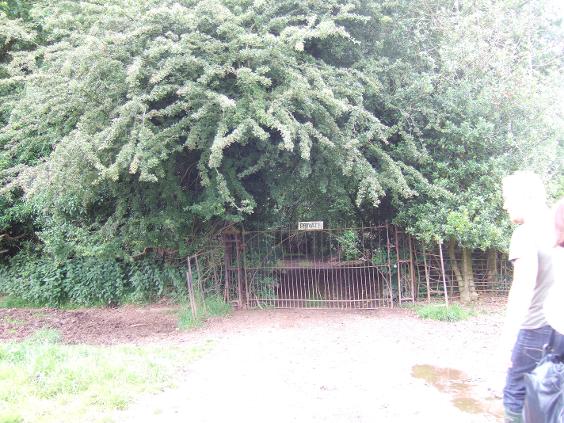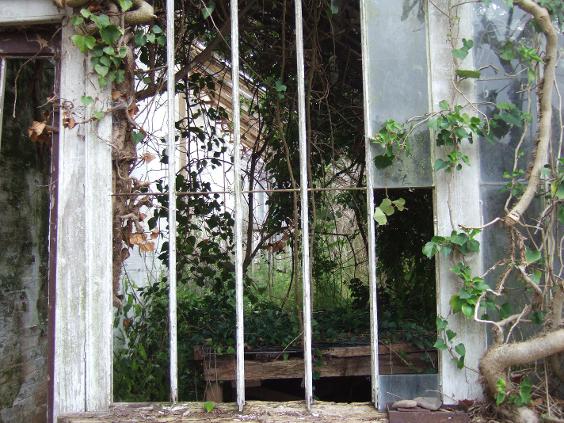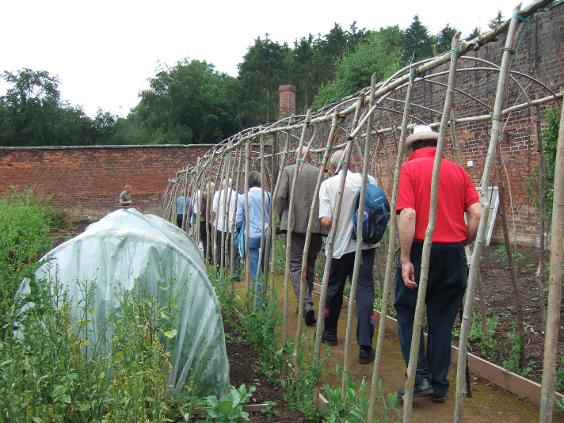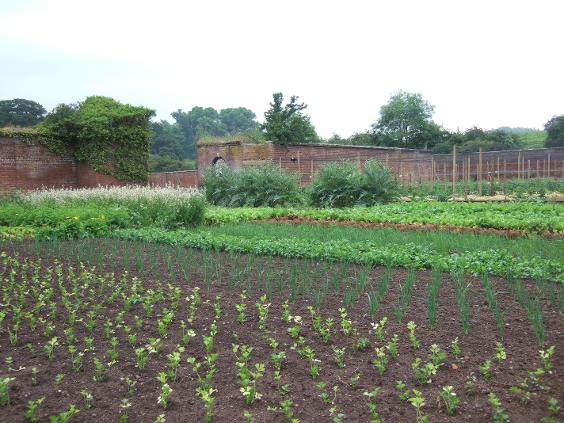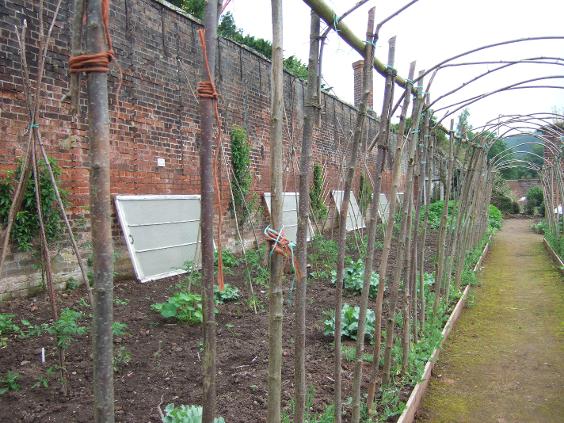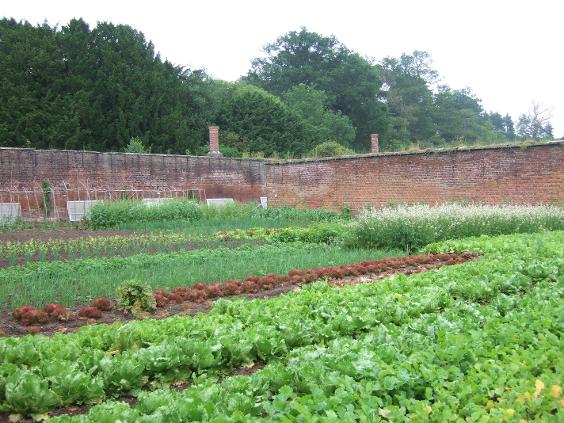 Potato Day 2014 Happy 10th Birthday and what a wonderful time was had by all. Sogs members, the buyers and contributors.
Thank you all.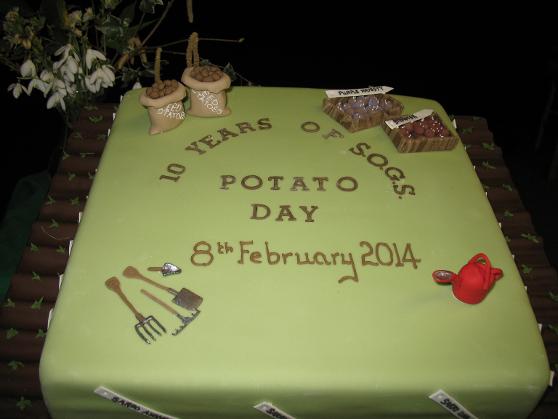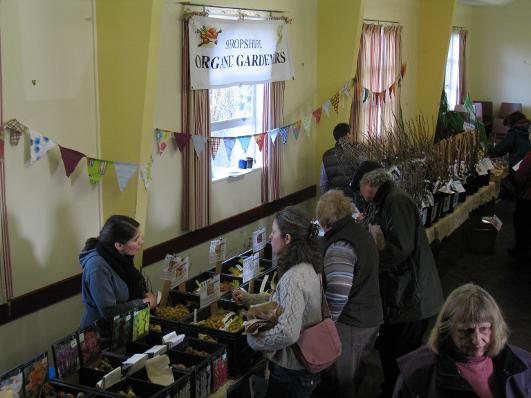 Above- Brighter Blooms with seeds, fruit trees, onion sets and so much more
Right-Filling the bags with lots of lovely tubers
Below- Serving refreshments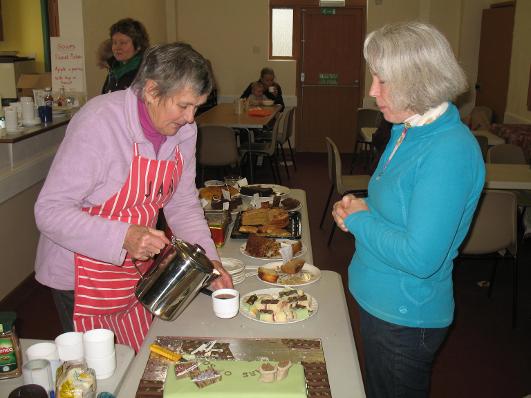 Above right- The sale in full swing
Below- Choosing the right variety
Below right - Please pay here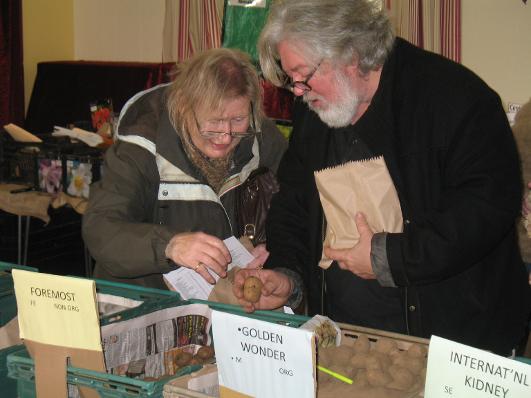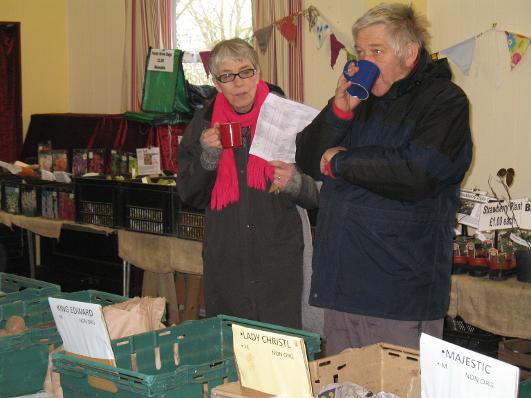 Above - Visitors enjoying a welcome cup of tea
Right - Raffle for a fresh vegetable hamper
Below- Varieties in trays in alphabetical order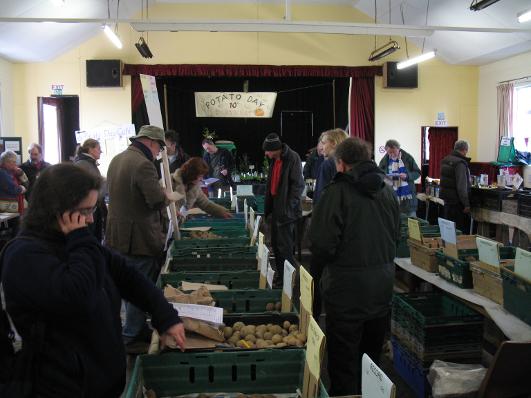 Right - The tea ladies
Below - Choosing the best
Below right - Potato Game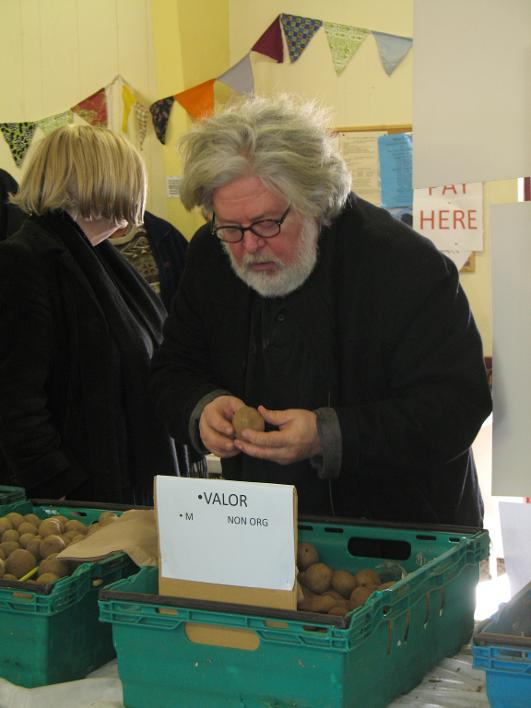 See you all next year at Montford Village Hall

BBC Radio 4 Gardener's Question Time came to Shrewsbury
SOGS hosted an edition of Gardeners' Question Time in November and the panel consisted of
Chairman Peter Gibbs, Bob Flowerdew, Anne Swithinbank and Chris Beardshaw.
Two programmes were recorded. The first was broadcast on November 22nd and the second will be broadcast on January 3rd 2014. Listen on Radio 4 iplayer.

www.bbc.co.uk/programmes/b03hxjrp#programme-broadcasts


We are a group of enthusiastic organic gardeners and small holders who meet once a month for talks, visits and outings. We are affiliated to Garden Organic.

Between November and April we meet at St Chad's Church Hall, Town Walls, Shrewsbury 7.30pm on the first Wednesday of the month, for a talk related to organic gardening, followed by tea and biscuits. In the Summer months (it lasts from May to October in Shropshire - honest!) we go usually on a Sunday to members gardens and small holdings.

We have a coach outing usually to somewhere of importance. In 2014 we went to Arley Arboretum. The coach fare is paid for by the group as a thankyou to the hard working members.
The group has a library of organic gardening related books for members to borrow.
Find us on twitter @ShropsG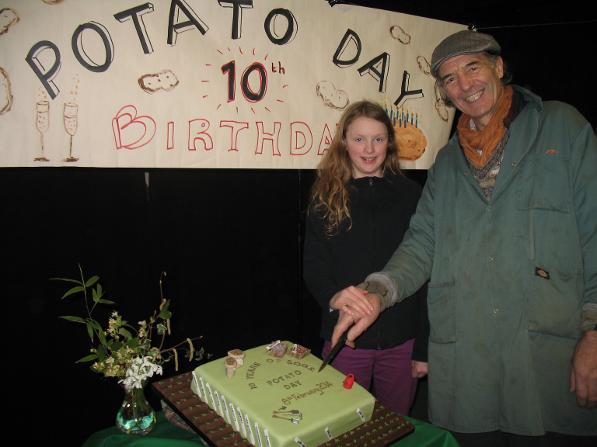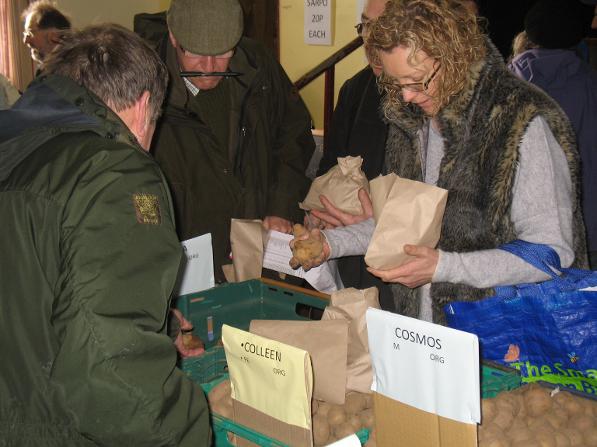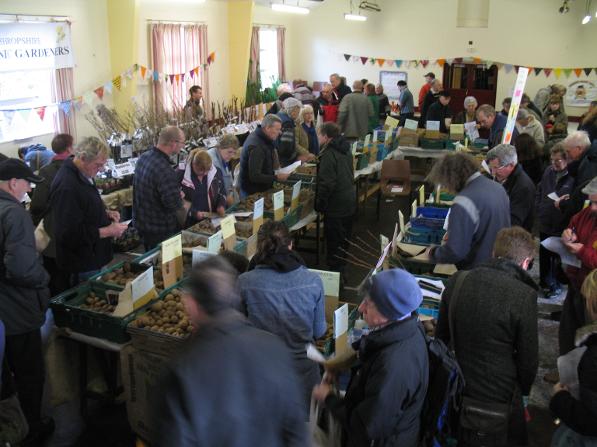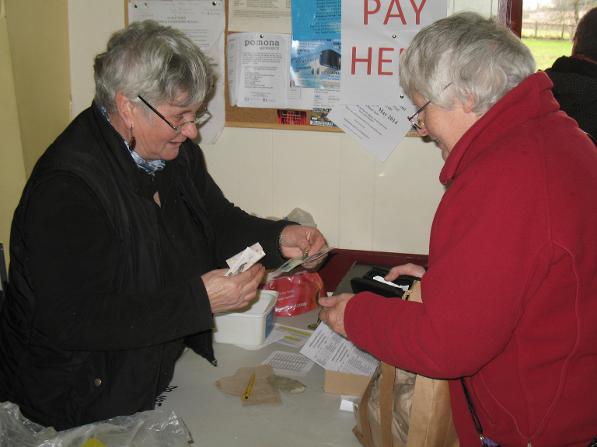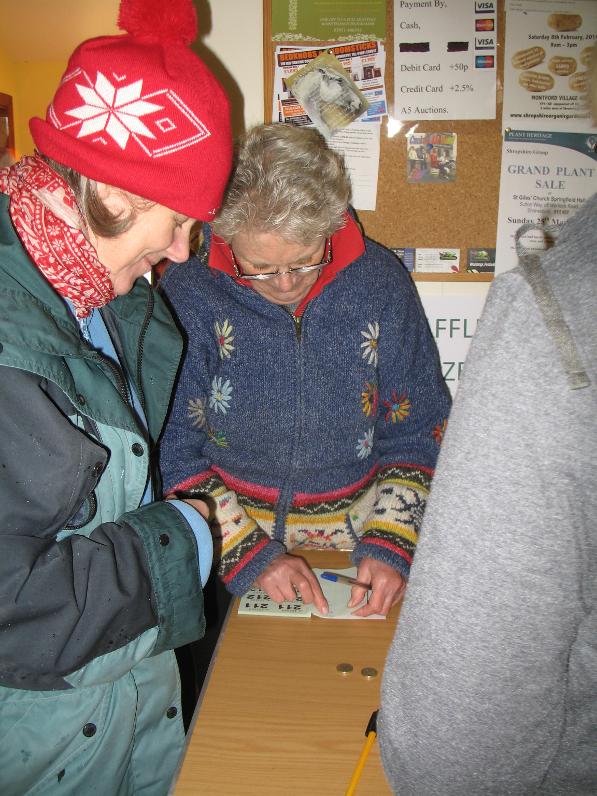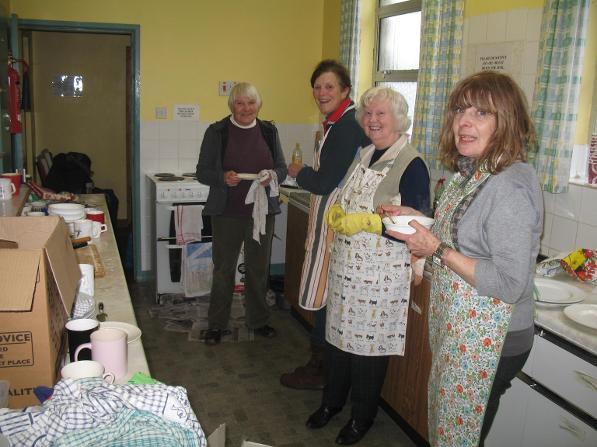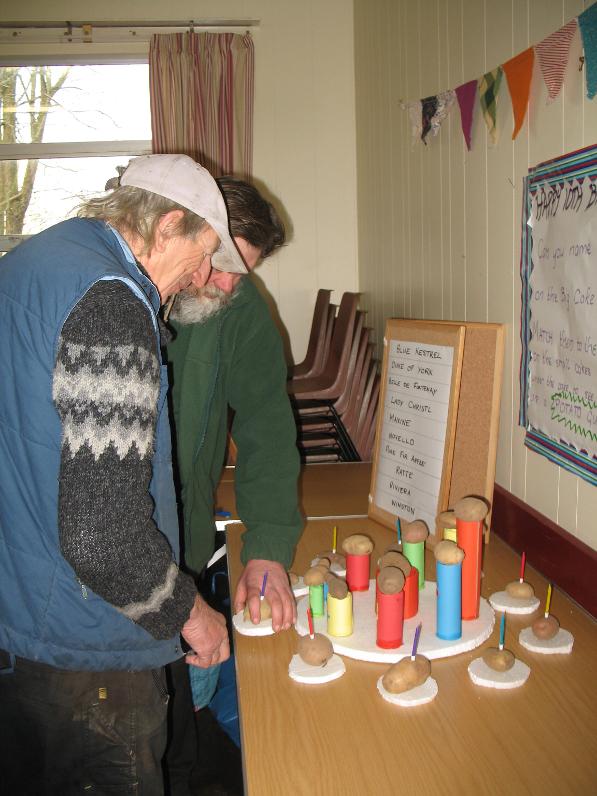 Question Time Panel with Peter Anderson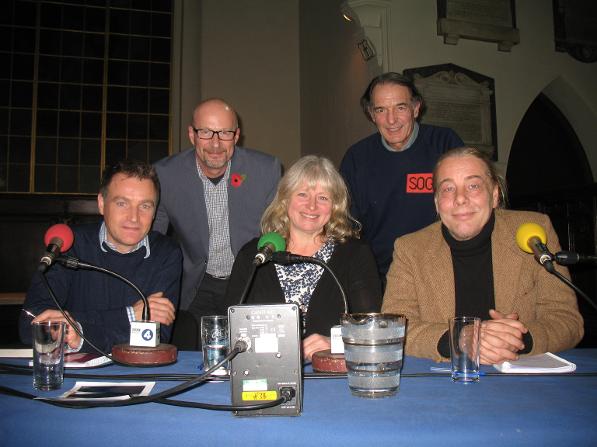 Members wait to ask their questions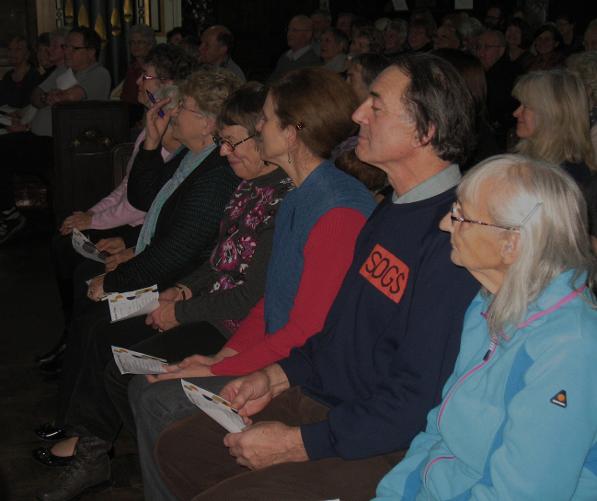 The group also has a stall at the Shrewsbury Flower Show, where you can come along and learn about organic gardening and meet existing members.

Membership is £8.00 single or £10.00 couple per year. Visitors are very welcome to come to an individual meeting at £1.00.