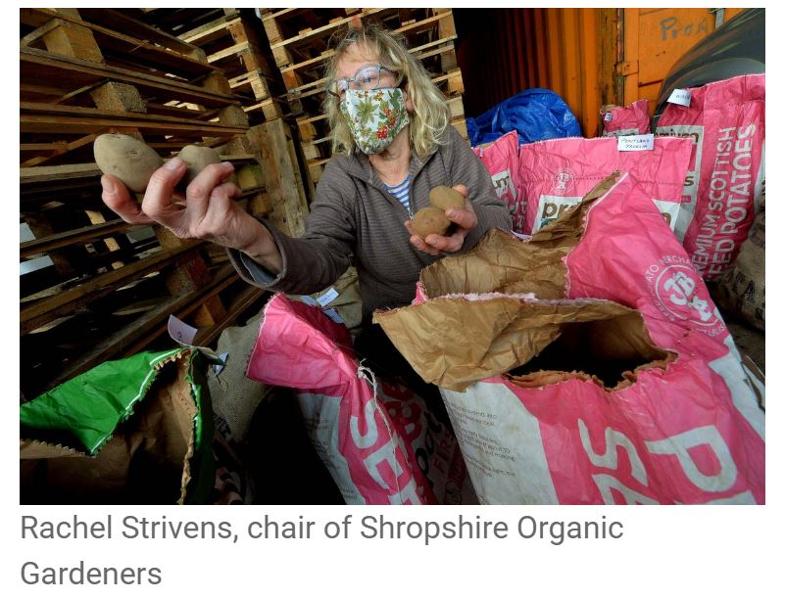 Jan 2022
Message from Rachel, Chair of Shropshire Organic Gardeners
As can be seen on the picture, I have been successful in my annual Heist at the Seed Potato Bank. Now that masks are seen everywhere, I was able to ditch my usual tights over the head disguise.
Details of Potato day 2022 at Wattlesborough are below, or click on the main menu.
We are changing our venue for monthly meetings to Shrewsbury Cricket Club, see below for details.
POTATO FEST - Saturday 5th February 2022 10.00am - 3.00pm
Wattlesborough Village Hall
Following last years' strange but successful Potato Day, considering the circumstances, Potato Day is back for 2022 at our usual venue of Wattlesborough Village Hall.
We have 27 varieties of organic seed potatoes, plus approx 19 different non-organic ones, so please think of us if you're organising orders for your groups. The beauty of our event is the ability to try small (or large) quantities of lots of different varieties.

For ordering potatoes, please click on the Potato Day 2022 ordering menu item.
New for this year our Seed Potato Starter Packs - ideal for children or growing in containers. For purchase on the 5th Feb only.
For detailed information on the varieties available, please click on the Potato Day 2022 menu item.
Check our Facebook page too
Next meeting in 2022 at Shrewsbury Cricket Club will be on Wednesday 2nd February at 7.30pm.
108, London Road, Shrewsbury, Shropshire, SY2 6PP Plenty of parking.
Finalising potato day followed by a short talk about Edible Culture, the peat, pesticide and plastic free nursery and garden centre at Faversham, Kent.
Plenty of seeds left over from December's Seed Swap if you missed out.